Al-Shabaab executes four for the death of the group's leader in Somalia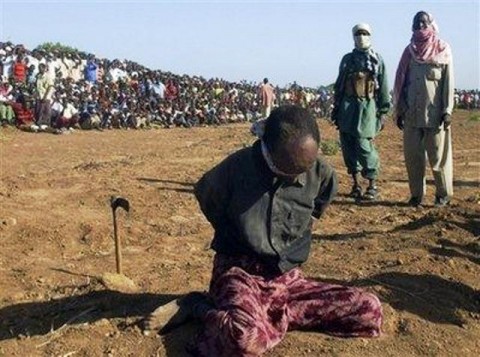 Al-Shabaab fighters in Bay region executed four men on charges of spying for the US government drones that killed senior leaders, including former leader Ahmed Godane who was killed by U.S. drone late 2014.
The execution took place in the centre of small town, Bulo-fulay which lies south of the capital Mogadishu. It's one of the few strongholds still under the control of al-Shabaab.
According to the group, five of the men were convicted of spying for the Somali Federal Government and guilty of involving in the killing of senior Al-Shabaab leaders.
All of the victims were young men; three of them were shot dead, while one man who they accused of helping the US intelligence with their drone strikes was beheaded.
According to the radio Andulus broadcast, the beheaded man was Mohamed Aden Nur, 26, who was accused of "working with (the) CIA" and facilitating the killing of al Shabaab's former leader Ahmed Godane,
Another of the executed men, Muhaydin Hiraab Ahmed, 27, was accused of spying for the CIA and Somalia's neighbor Kenya, and in aiding the killing of Adnan Garaar.
Hundreds of residents gathered to watch the execution event, which was carried out a squad of masked fighters belonging to Al-Shabaab who publicly executed four blindfolded men tied to poles in the square after previous day vehicles with loudspeakers went around the town announcing.
Separately, Two men said to be Kenyan nationals and a Somali man have been publicly executed by a firing squad in Jilib town which lies about 400Km south of Somalia's capital city Mogadishu.
Witnesses said al Shabaab fighters used loudspeakers to summon residents to an open area near the port, where hundreds gathered to watch the grisly spectacle.
Courts run by al-Shabaab clerics have ordered executions, floggings and amputations in recent months, mostly in further south, but also in the group held districts.
In 2011, al Shabaab was ejected from Mogadishu by the African Union force AMISOM, and last year it was also pushed out of its southern Somalia strongholds by a combination of AMISOM and the Somali National Army.