At least 11 people killed in twin explosions at CID headquarters in Mogadishu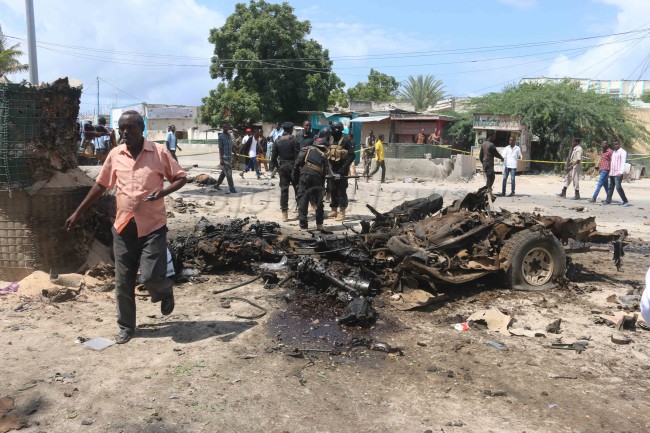 About 11 people among them four Al-Shabaab militants were killed in twin bomb explosions at the criminal investigations department headquarters in Mogadishu Sunday.
An ambulance service has told Goobjoog News it had ferried 12 injured people and four bodies while a medical source at the city's Medina Hospital confirmed one person succumbed to injuries.
Goobjoog News correspondent who visited the scene said he saw five bodies strewn at the entrance of the CID headquarters.
Police said the first explosion happened when an explosives-loaded car rammed at the perimeter wall of the CID gate while the second explosion went off shortly some few metres away.
Ali Mohamed, a police officer told the media they had established the death of seven people. "We can confirm seven people have been killed among them civilians and two militants," said Mohamed.
There was heavy gunfire with smoke billowing from the scene located near Sahafi Hotel which was also attacked by Al-Shabaab last year killing 15 people among them a decorated army Gen Abdikarim Dhagabadan who led the operation to drive Al-Shabaab out of Mogadishu in 2011.
Shrapnel from the scene could be traced some two kilometres away.
The attack comes barely a week after twin explosions went off near the entrance of the gate used by the UN and Amisom in the heavily fortified area near Aden Adde Airport. A former lawmaker was identified as the driver of the ill-fated explosives-laden mini lorry which killed 13 people and injured 17 others.
Somalia is preparing for elections whose date is yet to be announced by the electoral team but were set for August this year.
Al-Shabaab has claimed responsibility for the attack.