Drought displacing 3,000 people daily in Somalia-refugee agency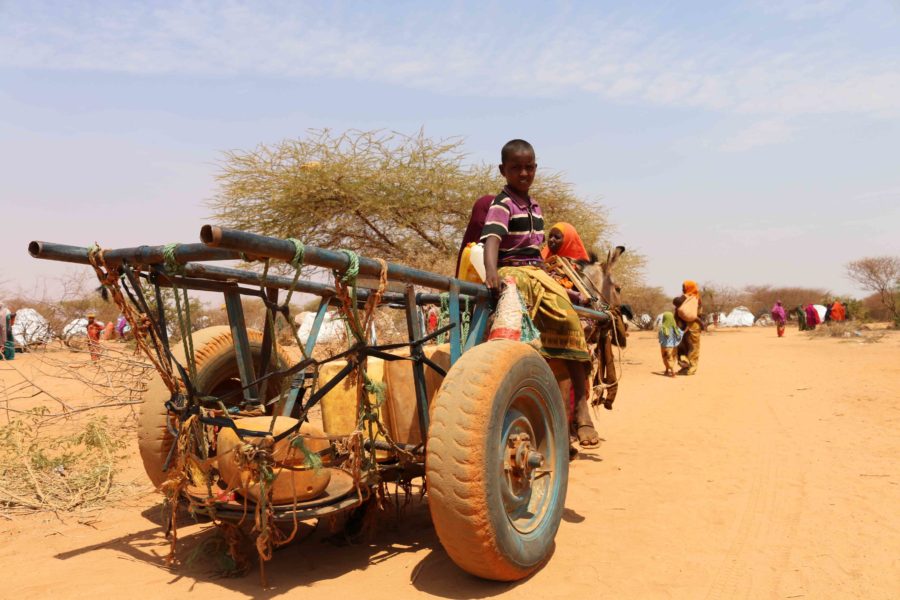 The ongoing drought in Somalia is uprooting over 3,000 people from their homes in Somalia every day, the Norwegian Refugee Council has said warning the 2011 scenario is fast playing out.
In a statement Wednesday, NRC's Somalia country director Victor Moses said 438,000 people have been displaced since November last year as the situation is further compounded by cholera outbreak in central Somalia claiming scores of lives and exposing thousands to further risks.
"Over 3,000 people a day are being forced to abandon their homes in search of water and food. This is the highest displacement we've witnessed since the 2011 famine, and it's spiraling higher each day," says NRC's Country Director in Somalia, Victor Moses. "The indicators are lining up dangerously with what we saw in the lead up to the 2011 famine."
Moses said two thirds of those displaced are from Mudug, Bay, Shabelle and Sool regions with over half of them fleeing to Banaadir, Muduf and Bay. A total of 63,000 people have arrived in Baidoa, the capital of Bay region since, the Norwegian agency said adding another 85,000 have arrived in the country's capital Mogadishu since November.
Mogadishu is already home to over 300,000 internally displaced people, a number of them arriving in the city in 2011 fleeing the then famine which claimed upwards of 250,000 lives.
The humanitarian agency said time is fast running out but response has been positive from donors.
"These are clear hallmarks of a catastrophe in the making, with devastating impacts to displaced families," said Moses. "Now is our last chance to avert a famine. Donors have been generous and the money has started to come in. We are in a race against time to turn the situation around."
Families, NRC says have been robbed of livelihoods making their lives unbearable as they remain the next victims of the drought which the UN has warned is crossing into the next phase-famine.
"I lost ten goats. One day they just started falling and dying. I decided to move away, as I feared that my children would start falling and dying too," Halima a mother of 11 children in Belethawa, Gedo region is quoted by NRC.
The drought is inflaming an already dire humanitarian situation in Somalia. Half the population – over 6 million people – face acute food insecurity. This is 1 million people more than just 6 months ago, NRC said.
Humanitarian agencies and world governments are marshaling support to avert the full effects of famine in Somalia. The UN humanitarian affairs coordinator for Somalia Peter de Clercq said early this month they had received on $105 million out the $825 million they had appealed for to cover the first half of 2017.
NRC said 11,000 cases of cholera have been confirmed since its outbreak late last year while 268 people have succumbed to the disease this year alone.