Ethiopian and Kenyan troops praised for work in Somalia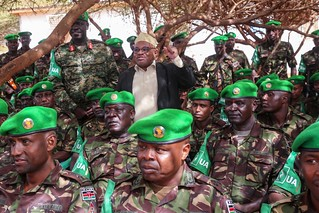 DEFENCE WEB|KISMAYO: ATMIS (African Union Transition Mission in Somalia) troops were on the receiving end of praise for a job well done, particularly in and around Kismayo, from the AU chair's special representative.
Ambassador Mohamed El-Amine Souef, commended ATMIS troops and affirmed the mission's commitment to a safe and stable Somalia during a two-day working visit to the port city Kismayo. The visit according to ATMIS was to assess mission performance and evaluate peacekeeping troops' welfare.
The port city is part of ATMIS sector 6 area of responsibility and is manned by troops from the Ethiopian and Kenyan national defence forces.
While in Kismayo Souef met with top ATMIS military commanders, led by contingent commander, Brigadier General Lukas Kutto, and Jubaland's Second Vice President, Abdulkadir Haji Mohamud and other senior state level officials, for briefings on the security and political situation in the region.
"I had productive discussions with the Vice President and am satisfied we are heading in the same direction with the same commitment- the fight against Al-Shabaab," Souef said.
He repeated ATMIS' continued support and that of other partners in securing the region to ensure peace and stability and enhance social, economic and political activity.
"This will be done not only by Jubaland leadership with the Federal Government of Somalia as well as ATMIS.The African Union mission will provide support as mandated by the UN Security Council resolutions 2628 and 2670 of last year."
In his meeting with ATMIS military commanders, Souef was briefed on issues, ranging from troop welfare to efforts to degrade al-Shabaab.
Briefing the media after the meeting, Jubaland vice president Abdulkadir Haji Mohamud, reaffirmed the readiness of his administration to conduct military offensives against the Al -Shabaab with the support of ATMIS.
"We agreed to speed up the fight against the terror group Al-Shabaab and ATMIS has taken a strong position on this issue. We are happy with this and our meeting went well" Haji Mohamud said.