Ethiopian forces in Bardhere town order telecommunications cut off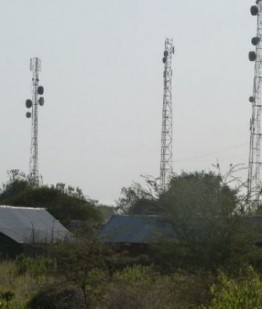 Ethiopian forces who are part of AMISOM troops together with SNA have ordered the suspension of Telecommunication services in Bardhere town.
The reason behind the order of Ethiopian soldiers is not yet established.
Residents in the town who spoke to our reporter on condition of anonymity said that the telecommunication companies in the town (Hortel Inc and Nationlink Telecom) have halted operations after they were ordered to do so.
Goobjoog News correspondent in the town said through Email "Nobody knows the reason but the whole town seems to have experiencing lack of network, no incoming or outgoing calls"
The administration of two main telecommunication companies in the town, have yet comment on the issue.
The joint forces who want to launch security operations in the town and nearby villages are reportedly seeking to keep their operations secret.
Bardhere town used to be the largest stronghold for Al-Shabab's top officials and its foreign jihadist fighters before they fled after heavy military assault by the Somali government forces and the African Union mission in Somalia (AMISOM).
Somalia's telecommunication companies have stop providing internet through mobile handsets following last year's announcement by Al-Shabab to ban internet
In an announcement broadcast on 9th January 2014 by a radio station affiliated with the group and later in a statement released to local media, Al-Shabab said telecommunication companies had 15 days to comply with the order.
"Any individual or company that is found not following the order will be considered to be working with the enemy and they will be dealt with in accordance Sharia law." the statement said.
Mobile internet (3G) was introduced to Somalia 2013 and has proven popular. Fibre optics has arrived in Mogadishu in November 2013 and homes are have been connected to it which filled the gap left the internet accession through mobile handsets.
Somalia has one of the lowest internet penetration in world with just over 1 percent of Somalia's estimated 10 million population connected.
Most of those who access the internet in Somalia do so through the many internet cafes that dot the country's big cities and towns. The ban, Al-Shabab said, has not affected the cafes.