Global charity urges donors to prevent acute malnutrition crisis in Somalia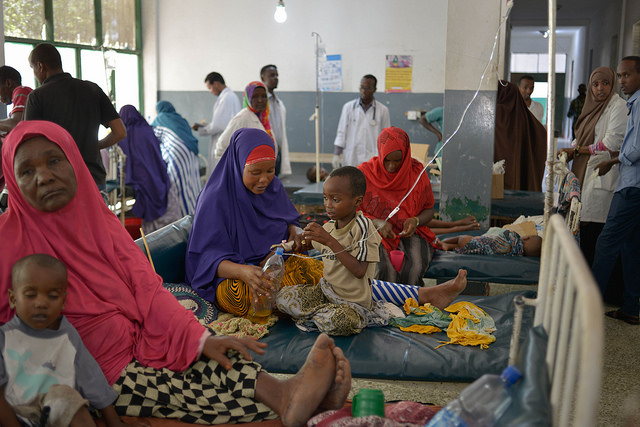 MOGADISHU: The global charity Save the Children has called upon the international community to avert the impending acute malnutrition crisis in Somalia.
The charity said that, despite initial hopes that rainfall would provide relief, approximately two out of every five children under the age of five in Somalia are likely to suffer from acute malnutrition by July 2024.
Francesca Sangiorgi, the agency's humanitarian director for Somalia, emphasized that while the international community successfully prevented a famine in Somalia at the end of last year, much work remains. "We are only at the beginning of our efforts to eradicate all forms of malnutrition by 2030 and save lives in Somalia," she said in a statement released in Mogadishu, the capital of Somalia, Monday evening.
The most recent Integrated Food Security Phase Classification (IPC) figures for Somalia indicate that 4.3 million people are expected to experience crisis-level hunger by December, compared to the current 3.7 million. While there has been some improvement in acute malnutrition compared to last year, the report cautions that the situation remains extremely worrisome, with approximately 1.5 million children, equivalent to 43 percent of children under the age of five in Somalia, projected to suffer from acute malnutrition by July 2024.
"Hundreds, if not thousands, of children are likely to die from starvation and other hunger-related illnesses. But behind each statistic is a child, a life teetering on the edge of hunger," Sangiorgi noted.
According to the charity, the prolonged drought has depleted the soil's ability to absorb rain for crop growth, and heavy rains have led to devastating flash floods, further damaging homes and livestock.
Save the Children has also warned that El Nino events are expected to intensify drying in the second half of 2023, potentially increasing the occurrence of floods. This raises concerns about heightened disease risks, including acute watery diarrhea, cholera, malaria, and acute respiratory tract infections, particularly among vulnerable children.
The organization has called on donors to increase their response to the crisis and ensure that life-saving food, water, health and nutrition services are immediately available to families in Somalia who are in desperate need. Additionally, it has urged the international community to take action to eliminate hunger in Somalia and the Horn of Africa by addressing root causes, including finding sustainable solutions to the global climate crisis and supporting the communities most affected to adapt and prepare for climate shocks.