Illegal fishing vessels have forced us to be pirates, says Iranian vessel hijacker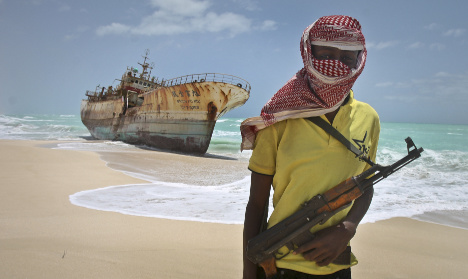 Pirates who seized Iranian ship have for the first time came forward to comment about the reason forced them to hijack ships.
One of the pirates who seized Iranian ship, Khaliif Osman Karani speaking to Goobjoog News said that they had faced continuous threats from foreign fishing boats which are equipped with weapons.
"Our job is jeopardized, we have been several times chased by these vessels which are illegally taking our sea resources therefore we decided to defend our waters because we have no skill other than fishing if they are going to block our lifeline then we have to respond by hi jacking their vessels" he said.
He added that they stayed at their fearing for their dear lives after vessels poured them with hot water and destructed their nets.
"These are Iranian vessels, we have evident and it is obvious, everybody knows that" he underlined.
He added "The trawlers are doing the illegal fishing and dumping waste. Some our fishermen have gone missing while others are tortured by the trawlers who at times spray boiling water from cannons"
Osman confirmed that they have captured Iranian fishing vessel and its 21 crew members as he vowed they would force the owner vessel to pay the price of their action.
The development comes days after a campaign group warned of a possible resurgence of piracy in the Somali waters as a result of increased illegal fishing. Secure Fisheries noted in its report that foreign boats take three times much fish more than Somali fishermen totaling to 132,000 metric tons against Somalia's 40,000 metric tons.
There has been a general lull in the Indian Ocean waters following a steady decline in piracy activities though there are reports pirates are still holding some foreign crews demanding ransom.
Somali pirates released four Thai sailors in February after holding them for five years, the longest period of captivity of hostages held by Somali pirates.
The four released were sailors of the MV Prantalay 12 vessel, a Taiwanese flagged fishing vessel seized by Somali pirates on April 18 2010.