Kenyan military spokesman: 22 Al-Shabaab fighters killed in Bula Gadud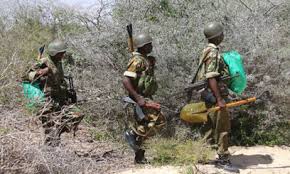 The Kenyan contingent in the African peace-keeping Mission said they have killed 22 al-Shabaab fighters and disrupted a logistical base in Bula Gadud in Jubba region.
Kenya Defense Forces spokesman David Obonyo said, troops liberated Bula Gadud and destroyed three vehicles and seized weapons and ammunition.
The logistical base was being used by Al-shabab to carry out attacks in Kismayo.
Obonyo said a Kenyan soldier and three others from the Somali National Army were injured in the operation aimed at clearing insurgents who had engaged the Somali government in several attacks.
The captured town used to be a major logistical and planning base for al-Shabaab fighters who are on the run after the AU Mission to Somalia (AMISOM) captured the southern port of Barawe on Sunday – the last major port held by Al-shabab.
The loss of Barawe comes just a month after al-Shabaab's supreme leader, Ahmed Abdi Godane, was killed in a US drone and aircraft strike on September 1st.
Al-Shabaab has vowed reprisal attacks targeting security forces in border towns of northern Kenya where dozens of people have been killed in landmine and grenade attacks blamed on the movement.