Kenyans sweep Boston Marathon, Eliud Kipchoge finishes sixth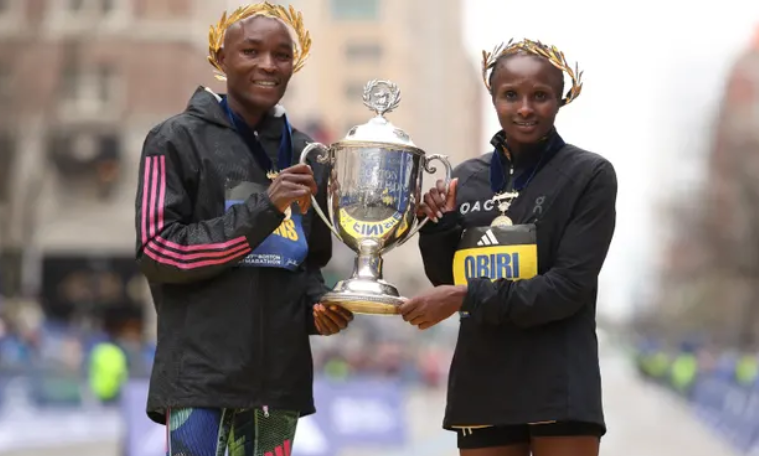 GOOBJOOG NEWS | BOSTON: Kenya's Evans Chebet won the Boston Marathon which was held on Monday after clocking 2:05:54  to successfully defend his title which he held since the 2022 edition of the race.
Fellow Kenyan Hellen Obiri, a two-time Olympic silver medalist in the 5,000m, won the women's race in a sprint to finish in an unofficial 2:21:38 and complete the Kenyan sweep.
Marathon record holder Eliud Kipchoge who was expected to dominate the race finished a distance sixth as the younger athletes including Tanzania's Gabriel Geay who finished second dominated the race – dropping Kipchoge from the leading pack around 20 miles to the finish line.
Kipchoge, a 12-time major marathon winner, was sixth. Scott Fauble was the top American, finishing seventh.
Kipchoge had been hoping to add a Boston Marathon victory to his unprecedented running resume. The 38-year-old has won two Olympic gold medals and four of the six major marathons; Boston – he has never run New York – is now the only one he has competed in and failed to win.
He also broke two hours in an exhibition in a Vienna park.
Fighting a trace of a headwind and rain that dampened the roads, Kipchoge ran in the lead pack from the start in Hopkinton until the series of climbs collectively known as Heartbreak Hill. But to the surprise of the fans lined up along Boylston Street for the final sprit, he wasn't among the three leaders.
"I live for the moments where I get to challenge the limits," Kipchoge said in a statement distributed by the race organizers. "It's never guaranteed, it's never easy. Today was a tough day for me. I pushed myself as hard as I could, but sometimes, we must accept that today wasn't the day to push the barrier to a greater height."
He also congratulated the winners and thanked fans for their support.
"In sports you win and you lose and there is always tomorrow to set a new challenge," said Kipchoge, who has stated a goal to win all six major marathons. "I'm excited for what's ahead."
Additional reporting by agencies