Kenya's Kiptum charges to 2:01:25 triumph, Hassan stuns on marathon debut in London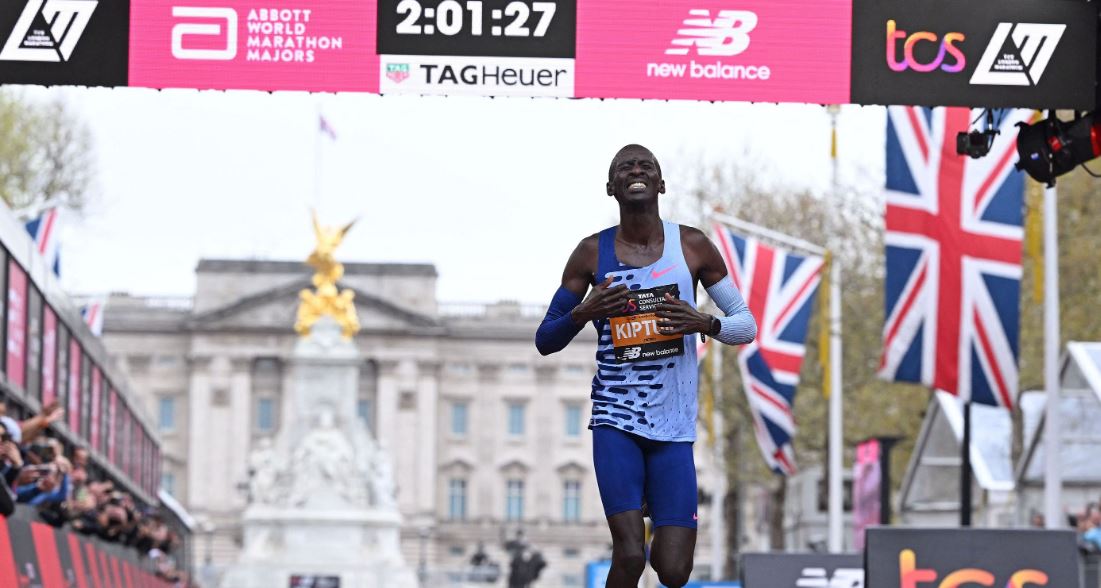 GOOBJOOG NEWS | LONDON: Kenyan runner Kelvin Kiptum won today's London marathon, clocking 2:01:25 to become the second fastest marathon runner of all time.
Dutch star Sifan Hassan used a superb sprint to win the women marathon overcoming a series of setbacks to clock 2:18:33 beating Ethiopia's Alemu Megertu by four seconds 2:18:37, while Kenya's Olympic champion Peres Jepchirchir finished third clocking 2:18:38.
Another Kenyan Geoffrey Kamworor finished second clocking 2:04:23 while Ethiopia's Tamirat Tola finished third at 2:04:23.
Only Eliud Kipchoge, with his world record of 2:01:09 set at the Berlin Marathon last September, has ever gone quicker on the race.
Kiptum made his crucial move 30km into the men's race, blazing a 5km split of 13:49 between 30km and 35km, plus a 4:23 24th mile, to leave his rivals trailing in his wake.
The 23-year-old recorded the fastest marathon debut in history in Valencia in December, winning in 2:01:53 to enter the world all-time list at No.3 behind Kipchoge and Ethiopia's Kenenisa Bekele, who ran 2:01:41 in Berlin in 2019.
But in London, despite passing half way in 1:01:40, Kiptum went on to improve his marathon time by 28 seconds, taking more than a minute off the course record of 2:02:37 that had been set by Kipchoge in 2019.
"I don't know what to say. I'm so grateful," said Kiptum, who explained that despite coming so close to the world record, it hadn't initially been his aim.
"My plan was to run maybe 2:03 or 2:02, but I was not thinking about the world record. I was just focused on running a good time," he added. "I'll go back home, have a little rest and talk with my team. Maybe then we will think of the world record."
Netherlands' Hassan added to her legend by winning the women's race – a major marathon victory to go on a CV that already includes world 1500m and 10,000m gold medals, Olympic 5000m and 10,000m titles, a world mile record and multiple European records – from 1500m to the half marathon.
Before the race the 30-year-old said she had spoken of her nerves.
"To be honest, I am scared of the marathon," she said. "I don't know whether I will finish or not, but I'm also very curious."
It was that curiosity she disclosed that helped to carry her to the finish.
Leading results
Women
1 Sifan Hassan (NED) 2:18:33
2 Alemu Megertu (ETH) 2:18:37
3 Peres Jepchirchir (KEN) 2:18:38
4 Sheila Chepkirui (KEN) 2:18:51
5 Yalemzerf Yehualaw (ETH) 2:18:53
6 Judith Jeptum Korir (KEN) 2:20:41
7 Almaz Ayana (ETH) 2:20:44
8 Tadu Teshome (ETH) 2:21:31
Men
1 Kelvin Kiptum (KEN) 2:01:25
2 Geoffrey Kamworor (KEN) 2:04:23
3 Tamirat Tola (ETH) 2:04:59
4 Leul Gebresilase (ETH) 2:05:45
5 Seifu Tura (ETH) 2:06:38
6 Emile Cairess (GBR) 2:08:07
7 Brett Robinson (AUS) 2:10:19
8 Phil Sesemann (GBR) 2:10:23