MR. PRESIDENT: Hassan Sheikh Mohamud elected Somalia's 10th President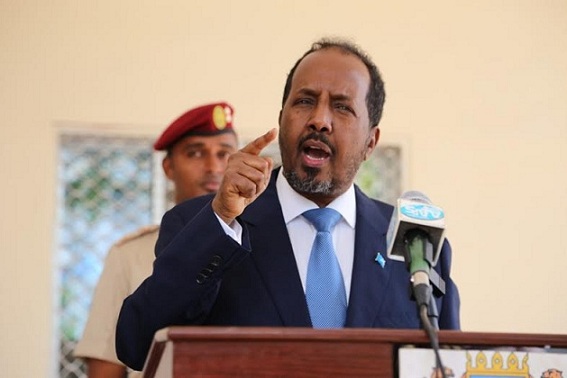 GOOBJOOG NEWS|MOGADISHU: Hassan Sheikh Mohamud, who served as Somalia's President in the first international recognized government between 2012 and 2016 has been re-elected as the 11th President of Somalia in a hotly contested race Sunday night.
Sheikh Mohamud garnered 214 votes in the third round beating his erstwhile opponent and incumbent Mohamed Farmaajo in a vote which ran into the night but not uncommon in Somali politics. Sheikh Mohamud, credited for building the foundations of federalism during his first term cruised through to victory despite a dismal performance in the first round when he got 52 votes.
In the second round, President Mohamud build a formidable lead sweeping 110 votes as his close rival, Mohamed Farmaajo came second with 83 votes. Farmaajo ended the race with 110 votes.
Puntland president Said Abdullahi Deni shot to the top in the first round with 65 votes and but failed to sustain that momentum in the second round as delicate matrixes cutting across clan lines, victory prospects and financial muscle prevailed. He garnered 68 votes while former PMHassan Khaire closed the race with 63 votes.
Farmaajo's quest for a second term at Villa Somalia flopped in the third round after a sustained fight with Mohamud.
Farmaajo rode to power on February 8, 2017 sparking rapturous celebrations across the country and several cities in the world where Somalis were based. But he goes down tonight a villain for a bungled four year term that stretched closed to six following failure to lead the country into elections on time.
His attempts to illegally extend his stay in office by two more years in April 2021 almost drove the country into a full scale war as opposition backed forces took trooped into Mogadishu resulting in a near week-long standoff.
President Mohamud's election tonight set a record in Somalia's political history as he became the first president to be re-elected into office for a second term. He returns to power at a time Somalia is undergoing a drought which is feared could escalate into a famine, a surge in Al-Shabaab attacks among a host of other challenges.