Pep Guardiola: Man City's Champions League win was written in the stars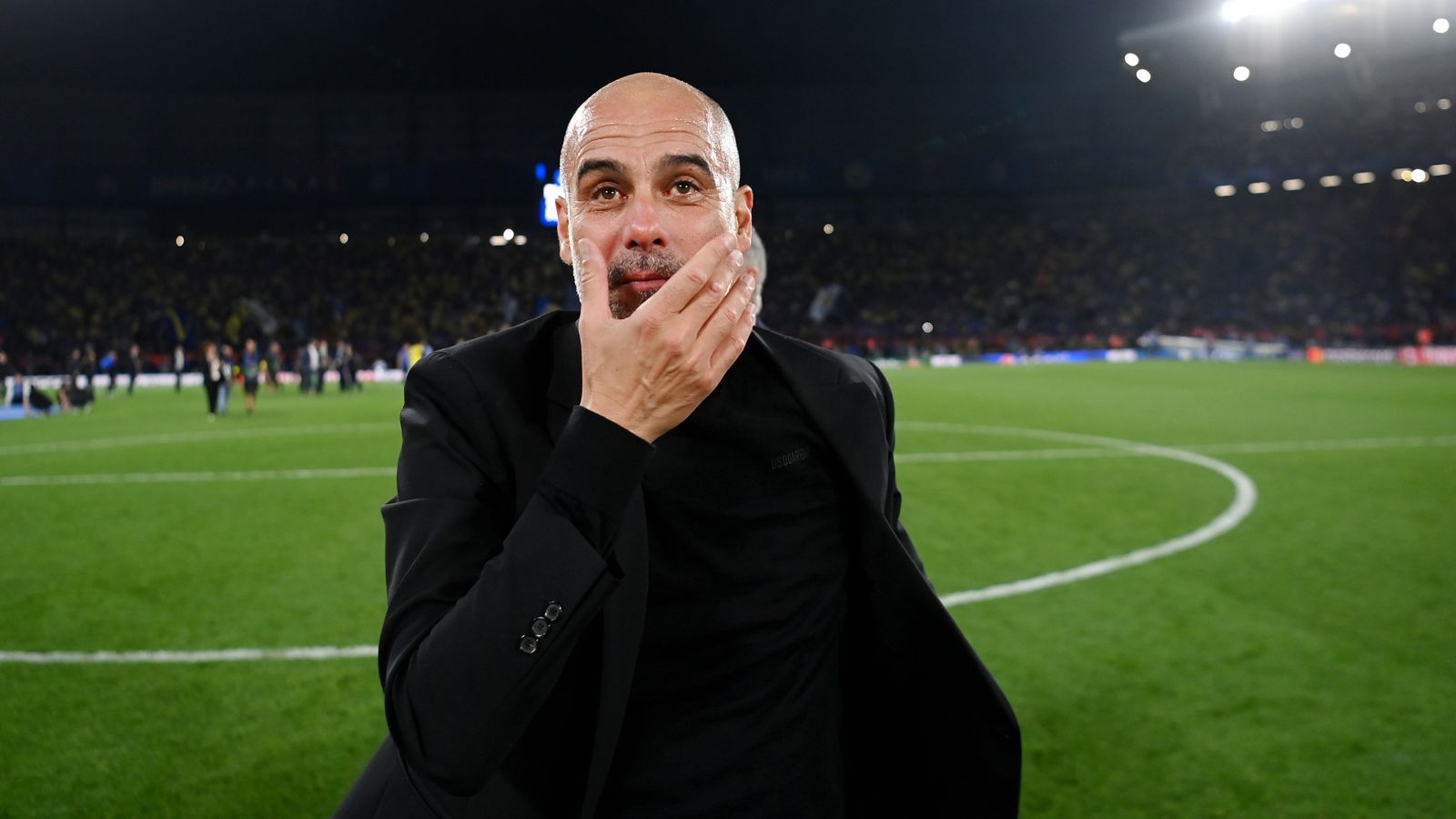 By Skysports
An emotionally drained Pep Guardiola heralded Manchester City's Champions League title as "written in the stars that it belonged to us".
City completed the treble with a hard-fought 1-0 win over Inter Milan in the Champions League final.
Having already overhauled Arsenal to retain the Premier League trophy and beaten Manchester United to lift the FA Cup at Wembley, victory in Istanbul saw them match the achievement of their city rivals in 1999.
Guardiola was in tears afterwards and a cut an emotional, exhausted figure.
"This trophy is so difficult to win," said Guardiola. It could not be different and we knew it, firstly because they are really good.
"The first half we were so anxious. We could not find the free man, John Stones. But it was a question of being patient. I said at half-time, last time, in Porto, we were 1-0 down, now it's 0-0. We adjusted some things but you have to be lucky in this competition.
" This competition is a coin [toss]. But we were there. I think it was written in the stars this season that it belonged to us and we did it.
"I think we defended a little bit better [than in 2021] in the box. We have four central defenders, proper defenders. Even when we make mistakes, we have the feeling we are solid.
"We didn't make a bad game. A little bit anxious in the first half but in general it was not bad. The momentum started winning the Premier League, then the FA Cup, and now we finish here.
"Winning this competition and the treble is so difficult, and that's why today is not important the way, it's just to do it."
Guardiola has challenged his team "not to disappear" next season as they bid to defend their crowns.
"I don't want us to disappear after one Champions League," he said.
"We have to work harder. There are teams that win the Champions League that disappear – we have to avoid that. Knowing me, that won't happen. It's a big relief for the club, for the institution to win this trophy. Finally people won't ask me if I'm going to win the Champions League or not.
"Winning five Premier Leagues is exceptional but people have said no, you have to win trebles every season to be complete. I'm good but I'm not good enough to win trebles every season. Champions League are so tough. Real Madrid have the ability to do it year in, year out. People pretend the Premier League is nothing. Now we can get credit for the five Premier Leagues.
"To do what we have done in the last six seasons is unbelievable. It's not just the Champions League – it's many, many titles."