Police in Mogadishu arrest 3 Al-Shabaab militants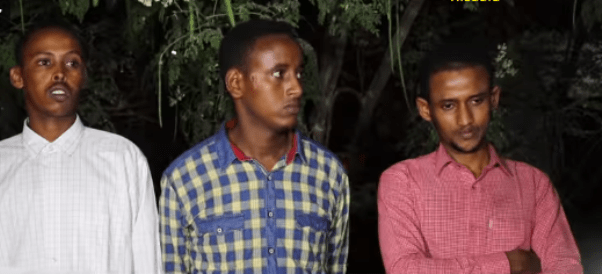 Security forces have arrested three Al-Shabaab members said to be behind targeted killings in Mogadishu and its environs.
Police revealed the three who were nabbed Monday were responsible for a spate of killings in Wadajir and Darkinley districts in Banaadir region which encompasses the capital Mogadishu.
According to the police, two of the men were in a mission to kill a woman in a khat market in Hodan district while the third was in charge of distribution of guns which were used in a series of killings in Wadajir and Dharkinley districts.
The three young men identified as Shueb Abdullahi Haji, Ismail Mohamed Aweys and Mohamed Osman Maalim have been operating in Wadajir and Dharkenley district for the last several years according to the police.
Banaadir regional deputy security officer Mohamed Tuulah said the woman whom the three were planning to kill was among the delegates in the last election and currently a khat trader in Mogadishu. Several electoral officials and delegates who participated in the 2016/17 elections have been gunned down in Mogadishu and other parts of the country in the last two years.
The arrest of the three follows heightened security alert following the Thursday bombing along Maka al Mukarama Street which killed 25 people and injured 131 others.