Saudi Arabia bans Somali livestock again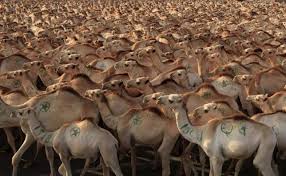 Saudi Arabia has again imposed a ban on the import of livestock from Somalia, livestock traders in Jeddah confirmed.
Somali traders in Jeddah shared with VOA Somali service a copy of a letter from the Saudi ministry of environment, agriculture and water stating the temporary suspension of livestock import from the Horn of Africa nation.
Nuh Dahir Amud, one of the traders, said the ban was imposed over concerns of Rift Valley Fever.
However, both the Saudi and Somali governments have not yet officially confirmed the ban, though some Somali officials contacted by the VOA Somali said they heard the report and would later comment on it.
The ban comes at a time severe drought continues to ravage most parts of the country negatively affecting the livelihoods of the pastoralists community.
If the move comes into effect, it will worsen the humanitarian situation in Somalia with Somali leaders and international humanitarian aid agencies appealing for urgent humanitarian assistance for nationals affected by the acute drought.