Seven killed in car explosion near Defence Ministry in Mogadishu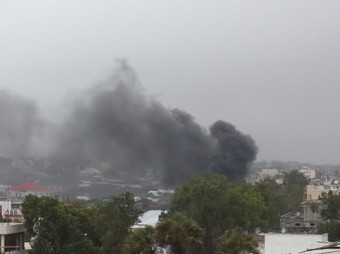 A suicide bomber in a car rammed into a military vehicle on Sunday in the Mogadishu, killing himself, at least seven soldiers including the head of the 3rd battalion in the Somali National Army, officials said.
"Military General Mohamed Roble Jimale and at least seven of his bodyguards died," police colonel Abdikadir Farah told Reuters.
A security source said the attacker rammed into a vehicle military convoy, affecting one of the vehicles carrying general Jimale  .
"He (The suicide bomber) detonated the bomb he was carrying in his car, killing himself. seven soldiers were also killed, five others were injured and are in hospital," said the source.
Mohamed Abdi a local resident, said he was nearby building when the blast occurred. "I quickly looked outside in panic to see smoke and dust erupt from the scene," he said. "I ran toward the scene along with others and saw two vehicles destroyed and the larger vehicle on fire."
A statement purportedly from a spokesman for Al-Shabaab claimed responsibility for the attack, saying the bomber detonated the explosives when the vehicle of the general was leaving the gate of the ministry premises.