Somali leaders, international community condemn Mogadishu bombing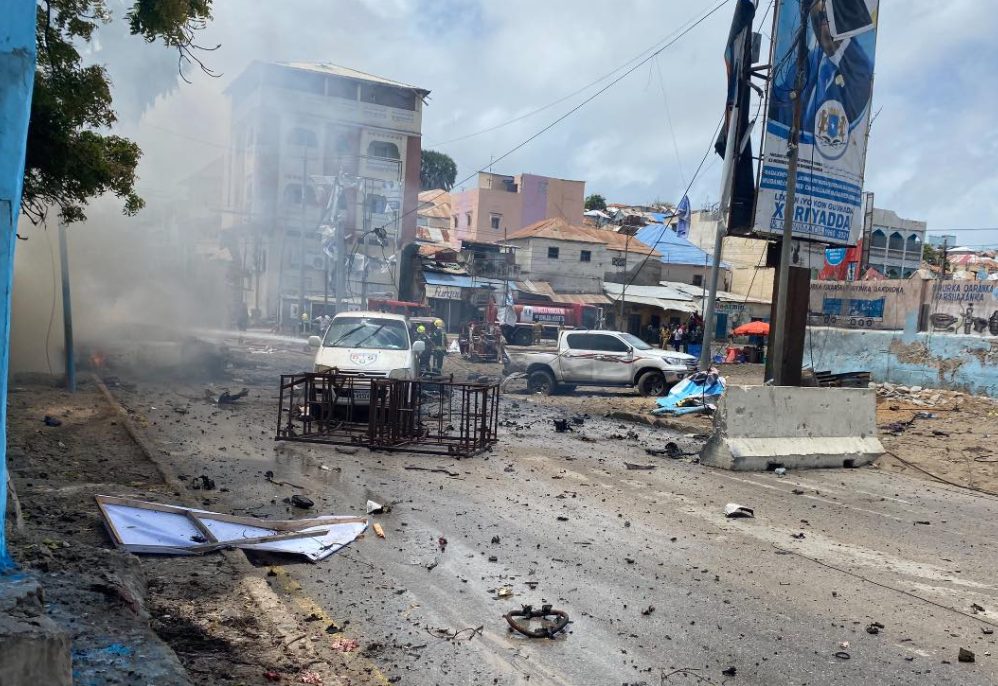 GOOBJOOG NEWS|MOGADISHU:
Somali leaders and the international community have roundly condemned the deadly bombing in Mogadishu Saturday that left at least eight people dead and nine others injured.
Outgoing President Mohamed Farmaajo led the nation in condemning the attack terming in the 'ugly intentions of terrorists'.
"This terrorist attack on the Somali people today shows their ugly intentions and their opposition to the lives and stability of the Somali people," said Farmajo.
The United Nations Assistance Mission in Somalia issued a statement condemning the heinous attack and says it stands with Somalis against such terrorist acts.
"The UN in Somalia condemns today's suicide attack near an entrance to Villa Somalia in Mogadishu. We extend our condolences to the families of the victims and wish a speedy recovery for the injured, and stand with all Somalis against such heinous terrorist acts", read the statement.
Prime Minister Mohamed Hussein Roble also strongly condemned Saturday's attack which also claimed the life of Hibaaq Abuqar, an active and outspoken member of a team in charge of the Office of the Prime Minister's Women Affairs.
"May God have mercy on the civilians who died in today's terrorist attack in Mogadishu. May God have mercy on those who died and may God heal the wounded.
We must work together to fight this horrific terrorism that continues to massacre our people", said Roble.
The British Ambassador to Somalia, Kate Foster, said she was deeply saddened with the attack metted on innocent civilians and particularly eulogised Hibaaq for her exemplary performance in advocating for women's rights in Somalia.
"Every life is a loss. Hibaaq's voice will be greatly missed as a tireless advocate for women's rights in Somalia. My condolences to Hibaaq's family, Mohamed Ibrahim Moalimuu and Office of the Prime Minister's colleagues as well as all those affected by today's attack", Foster said.
Somalia's former President Hassan Sheikh Mohamud called on security agencies to refrain from politics and up their game by fulfilling their mandate in maintaining peace in the country.
"I condemn today's terrorist attack on innocent civilians. I share the grief of the Somali people and their families. Security agencies should not interfere in politics and fulfill their responsibility to maintain public safety", said Mohamud.