Somali parliament picks 14 lawmakers for Kuwaiti, Qatari 'Friendship Committee'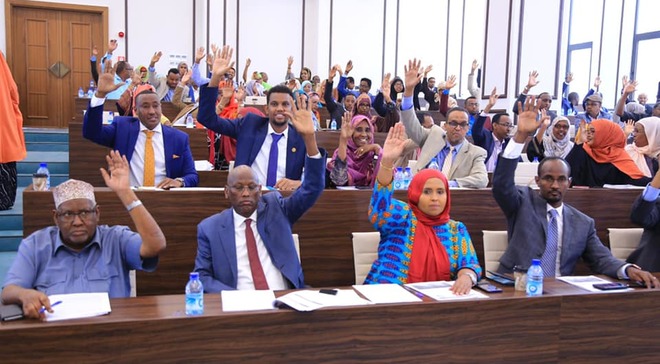 GOOBJOOG NEWS | MOGADISHU: The Federal Parliament leadership has appointed 14 legislators to represent the country in a Friendship Committee with the parliaments of Qatar and Kuwait.
According to a joint statement by Lower House speaker Adan Madobe and his Senate counterpart Abdi Hashi, the legislators will serve to further the relations with the parliaments of Qatar and Kuwait in recognition 'of the relationship between Somalia and the two gulf countries.'
The Qatar Committee comprises nine lawmakers- four senators and five MPs while that of Kuwait is made up of three MPs and two senators.
The two speakers directed their respective Secretaries General to forward the names to the Ministry of Foreign Affairs for onward transmission to Qatar and Kuwait.
The Qatar Committee comprises the following legislators:
Mohamed Kerow Mohamed, MP
Abdullahi Farah Mire, MP
Qaali All Shire, MP
Abdirahman Abdulkadir, MP
Ayub Ismail Yusuf, MP
Ahmed Mohamed Said
Ayan Adan Abdullahi
Nor Mohamed Gedi
Samira Mohamud Awad
The following legislators were appointed in the Kuwait Committee
Omar Ibrahim Hanshi, MP
Ahmed Abdi Koshin, MP
Mohamed Ahmed Mohamed, MP
Naima Hassan H Mohamoud
Abdi Hassan Awale