Somali security forces killed Al-Shabaab suspect in operation in Mogadishu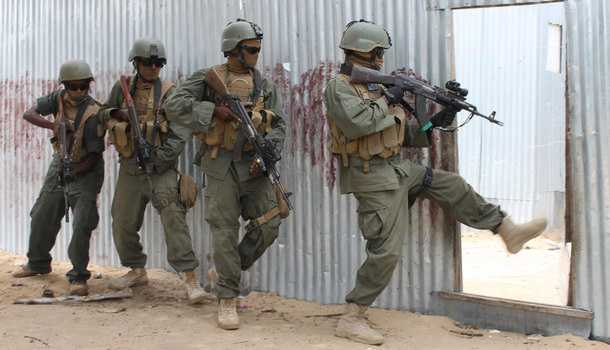 National Intelligence and Security Agency (NISA) killed suspected Al-Shabaab member who allegedly murdered a civilian and wounded young girl, Somali officials said.
The forces launched security operation to pursue the man and his accomplices in the district after tips off  from the public.
Local government spokesman Abdifitah Omar Halane confirmed to reporters that security forces patrolling in Hilwa district shot a man suspected to be Al-Shabaab member after he failed to stop.
"The security forces shot down Al-Shabaab suspect. The man had killed a civilian and wounded young girl as he tried to resist arrest by the security forces when they tried to disarm him," Halane said.
On 15th this month, NISA displayed computers, flags and documents seized from suspected Islamic State militants in Howlwadag district of Mogadishu.
The items included a flag of the so called Islamic State flag and a Toyota 4×4 vehicle and names and clans of 90 people suspected to be members of IS.
One suspect was arrested during the raid.
NISA said the cell was known to them and that they had been following leads which led to a home in Mogadishu. The laptops were installed with explosive devices and ready for use, the agency said.