Somalia gets first Senators as Galmudug concludes Upper House polls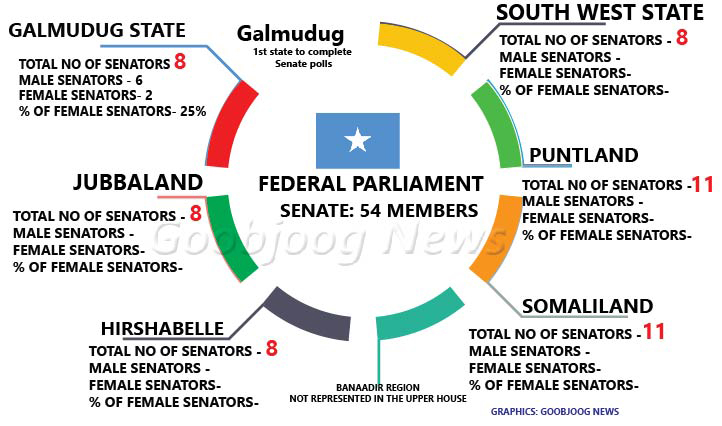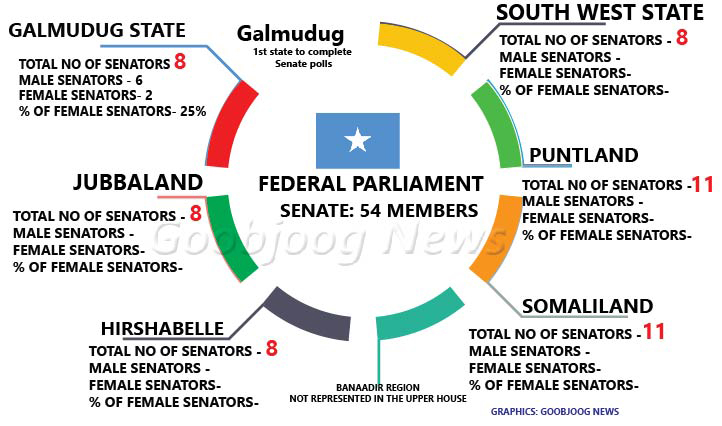 Galmudug state today concluded the election of Senators who will represent the state in the Federal Parliament with 25% of those elected being female.
A total of 8 Senators based on the national distribution among the six regional states were elected in the two days exercise which officially ushered in the Upper House in Somalia's history.
Out of the 8 senators, six of them are male accounting for 75% while two women, Zamzam Dahir Mohamed and Jawaahir Ahmed Elmi clinched the seats as the quest for 30% quota for women builds up.
Elmi who was a member of the last parliament battled out with two male contestants to emerge winner while Zamzam won in a women only contest.
Zamzam became the first female senator in Somalia while Abshir Ahmed Bukhari led the pack as the first senator in the country's 56 years history.
Our correspondent covering the elections said the process went on peacefully and that there were no Amisom soldiers in the town. "Only Somali National Army and the Galmudug state soldiers manned the place. There are no Amisom troops in the town," Goobjoog News correspondent said.
The Federal electoral body FIEIT in a statement late last month called for the deployment of Amisom troops in Adado town, the seat of the state government. A clash between the moderate Islamist group Alhusunna wal Jamaa on Friday in Gudinlabe locality some 30 kilometres away from Adado ended following a truce between elders from both sides.
Alhusunna still controls Dhusamareb town, the officially designated headquarters of Galmudug state. However following protests by the group over the formation of Galmudug state in 2014, Alhusunna took control of the town and has since not let go.
A total of 88 members of the state assembly participated in the elections.
South West state was expected to start its elections Saturday but there are no reports of any activity.  Other states yet to conduct the elections are Somaliland, Puntland, Jubbaland and the newly formed state Hirshabelle. Elections for Somaliland will take place in the capital Mogadishu while it is still unclear if Hirshabelle will hold its own in its capital Jowhar or Mogadishu.