Somalia to review federal power sharing, judicial system in new deal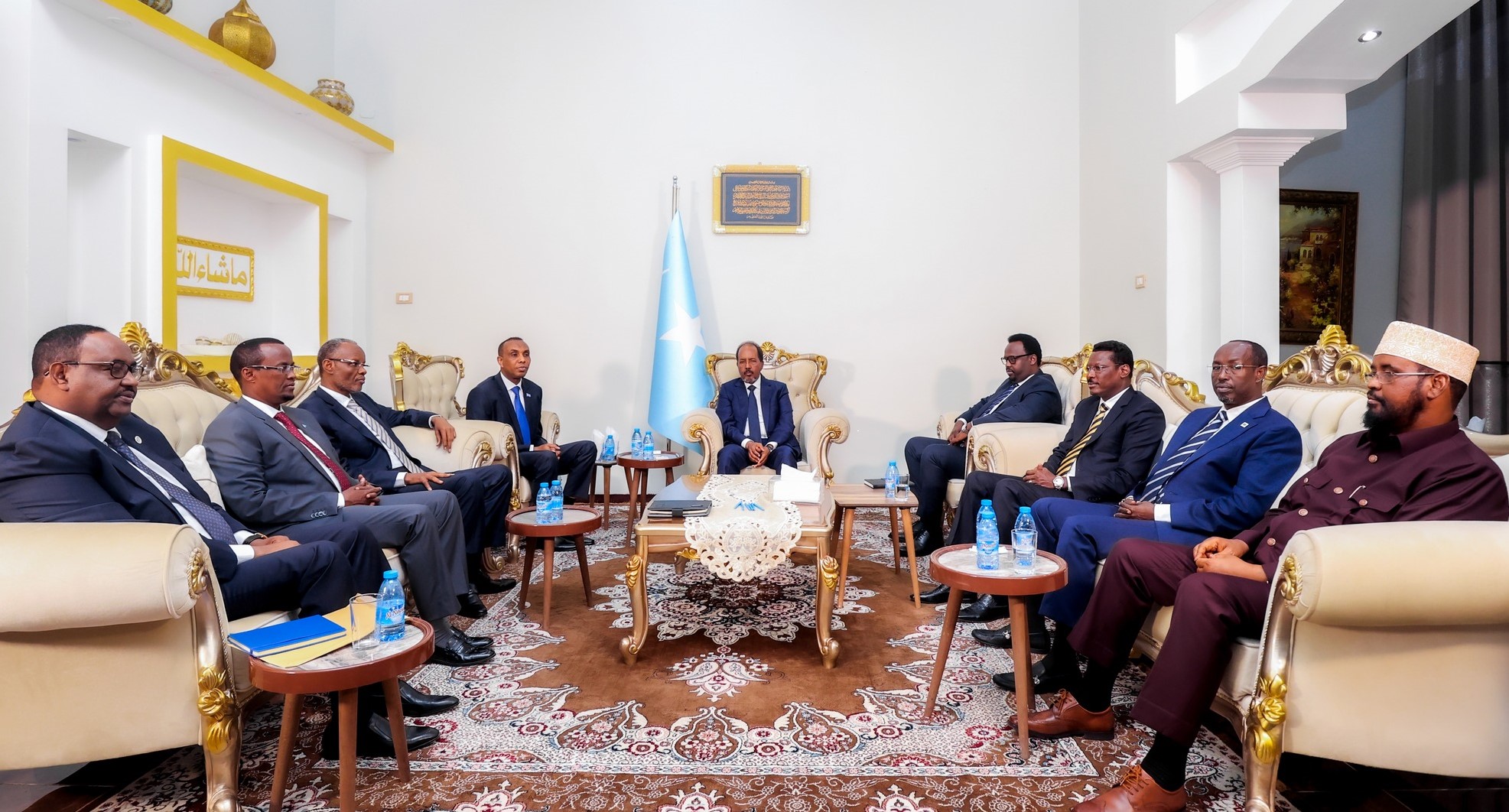 By T. Roble
Somali government and its constituent regional governments except Puntland have agreed to kick start reforms aimed at developing a unified judicial system and reviewing power distribution between the two levels of government in line with the federal structure adopted in 2012.
The federal government and federal member state leaders who have been meeting in Mogadishu under the chairmanship of President Hassan Sheikh Mohamud said in a communique Wednesday that they had agreed to refine the federal structure to resolve perennial political and governance challenges facing the Horn of Africa nation.
On the judiciary, the leaders under the aegis of the National Consultative Council resolved to develop and adopt a unified structure which shall ensure that the judicial structure at the state and federal level at in conformity with the dictates of the Provisional Constitution.
READ ALSO; Ambiguity and inconsistencies in Provisional Constitution fueling fights between PM Roble and Farmaajo
Article 108 of the Provisional Constitution envisages the existence of a national court structure which shall comprise the Constitutional Court, the Federal Government Courts and the Federal Member State Courts. The High Court is the highest court at both the federal and state levels respectively.
Critical has been the establishment of the Constitutional court whose mandate includes the interpretation of the constitution and resolution of disputes between the Federal Government and the Federal Member States among other roles.
The NCC meeting also resolved to work on redefining and delineating the powers of the federal government, federal member states and shared powers. Power distribution between the two levels of the government has been a source of conflict in recent years. Analysts have argued that the constitution is vague, especially regarding the powers of the President and the Prime Minister.
AMBIGUITY 
A case in point was the sacking of Security Minister Hassan Hundubey by then-PM Mohamed Roble on September 8, 2021. President Mohamed who had been at loggerheads with the PM challenged the sacking. Article 90 (e) of the Provisional Constitution empowers him to 'dismiss ministers, state ministers and deputy ministers on the recommendation of the Prime Minister.'
Interestingly, article 100 (b) also donates powers to the PM to 'appoint and dismiss members of the Council of Ministers.'
Disputes between the FGS and FMS have also arisen in the past when some FMS such as Puntland have been accused of conducting foreign affairs without the inclusion of the FGS. Article 53 of the Provisional Constitution vests exclusive powers to the FGS in four areas notable foreign affairs, monetary policy, citizenship and immigration and national defence.
According to the communique, Puntland will at a later date submit its views on the two issues.