Somalia, UN agencies roll out cholera vaccination drive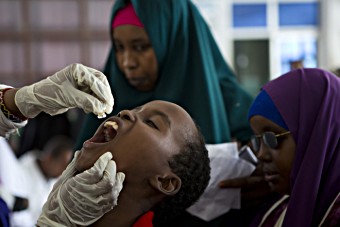 MOGADISHU: Somalia and the UN agencies said Sunday they are rolling out a five-day cholera vaccination campaign in five districts targeting 590,803 people aged one year and above including pregnant mothers.
Somalia's Ministry of Health, the World Health Organization (WHO), and the United Nations Children's Fund (UNICEF) said in a joint statement that the single-dose reactive cholera vaccination campaign is being rolled out in Jubaland State, bordering Kenya and Ethiopia, classified as the Mandela triangle, from Aug. 12 to 16.
"Our health system might be weak and fragile but our resolve to save lives is firm and together with our trusted partners we are hopeful that this intervention will help stop the transmission of cholera and measles and save scores of precious lives," Minister of Health of Jubaland State Ismail Ahmed Garas said in the joint statement issued in Mogadishu, the capital of Somalia.
The oral cholera vaccination campaign which will be synchronized among border communities with Ethiopia and Kenya will be carried out in Afmadow, Belet Xaawo, Luuq, Doolow, and Dhobley districts.
WHO Representative to Somalia Mamunur Rahman Malik said Somalia might have averted the threat of famine but not the threat of diseases because the prolonged drought is showing a real and life-threatening impact on the lives of the people across the country and especially in the Mandela triangle.
"It's a race against time to try to prevent major outbreaks of cholera and measles. Cholera and measles can spiral out of hand in no time because of their contagious nature, therefore, we just cannot wait and see this unfolding crisis balloon out of our hands," Malik said.
He emphasized the need for a collective and timely response, noting that their collective emergency response to the global pandemic of COVID-19 is just living proof of how timely collaborative action and delivery of a high-quality and evidence-based intervention can lead to protecting the health and well-being of populations, even if the health system is fragile.
The house-to-house campaign will be implemented by 788 vaccination teams each composed of two vaccinators — a data clerk, and a cold chain attendant, the health ministry said.
The WHO and UNICEF and other partners are supporting the Federal Ministry of Health and Human Services and the State Ministry of Health of Jubaland State to conduct the campaign.
Since 2017, Somalia has witnessed uninterrupted cholera outbreaks because of the large number of people having poor access to safe water and sanitation services, and natural hazards, including drought and floods, further exacerbated by protracted conflict and large-scale population displacement.
Source – Xinhua