Two killed Al-Shabaab motor attack on Qoryooley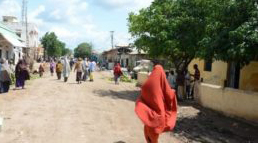 Two people have been killed and several others sustained injuries after Al-Shabaab fighters fired motor shells on Qoryoley town in Lower Shabelle region, 120 km southwest of Mogadishu.
Residents said some of the motor shells landed on residential houses near a military bases belonging to African Union forces.
Abdi Ali, a resident in Qoryoley town said two of several mortars fired from outside the town landed on a house, killing two people including a young girl.
"The shells killed two people and injured several other in Qoryooley town," said Ali.
AMISOM has also confirmed that its military bases in Qoryooley were targeted in mortar shelling and reported civilian casualties in nearby houses, two sisters including a 9 year-old girl were killed in the attack.
"Al-Shabaab last evening fired mortars into Qoryooley town killing a 9 year old girl & a woman, and injuring a local police officer," said AU on its twitter.
Al-Shabaab fighters did not comment on the attack but the group has carried out several deadly attacks on Government institutions, army camps and hotels.
Qoryooley, an agricultural town, is 120km (72 miles) north-west of Mogadishu and was a major stronghold of the Al-Shabaab fighters until 2014 when government and African Union forces took over.
It lies on a strategic crossroads for routes to the northwest towns of Somalia.