UN confirms it objected names of former warlords in Senate race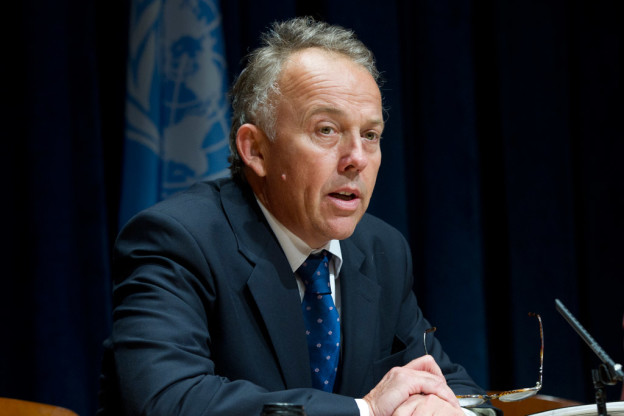 The UN has confirmed it strongly objected the inclusion of a former warlord in Somalia, Abdi Qebydiid in the list of Senators from Galmudug in the just concluded senatorial polls even though the state assembly went ahead to elect the man.
UN Support Office for Somalia UNSOM spokesman Joseph Contreras told Goobjoog News the letter which has been making rounds in the social media addressed to Galmudug state leader Abdi Guled was genuine noting the UN body would issue further statement on the same.
"I can confirm the authenticity of  the letter sent to Galmudug President Abdi Guled regarding the candidature of Qebydiid. We will issue a statement shortly," said Contreras.
In the letter dated October 14, UNSOM chief Michael Keating called for the deletion of the name of Qebydiid from the list of senatorial candidates warning his election would return Somalia to 'dark days of warlordism'.
"Given Abdi Qebydiid's past history, in particular his role during Somalia's civil wars, his inclusion in the list of Upper House candidates is a matter of serious concern. His candidature and the potential election of any individual with such a history represents a regressive step," said Keating.
Keating cited the 2012 election rules noting warlords were barred from becoming members of parliament.
Goobjoog News correspondent in Galmudug said Qebydiid's handlers had indicated they were sending a protest letter to the UN office. "They said they will call a media conference after sending the letter to the UN," our correspondent says.
An official at the Federal Indirect Electoral Implementation Team said the polls body was not aware of any letter from the UN regarding names of the candidates. FIEIT cleared the candidates after Galmudug revised the list to ensure the 30% women quota was factored in.
The UN chief in Somalia said his office and international partners were concerned with Qebdiid's name in the list of Upper House candidates noting 'every effort must be made to ensure the process results in the designation of holders of public office who do not threaten the legitimacy and credibility of the new government and parliament.'
Qebdiid a former warlord and interior minister in Mohamed Farah Aidiid's stint in Somalia's leadership also served as head of police in Mogadishu in 2001 during the Transitional Federal Government.
Keating called for the replacement of Qebydiid but he was elected Saturday as Senator by the Galmudug assembly. Unconfirmed reports also indicate similar letter was issued to Jubbland leader Islam Madobe over the name of another former warlord Abdifitah Mohamed Ali.
The UN is alleged to have also raised concerns over the name of Mohamed Hersi Mogan from Puntland who has been variously accused of leading the onslaught of mass murder of civilians in Hargeisa in 1988.