Wary of a possible 2017 poll, Somalia fixes Presidential vote for Dec 28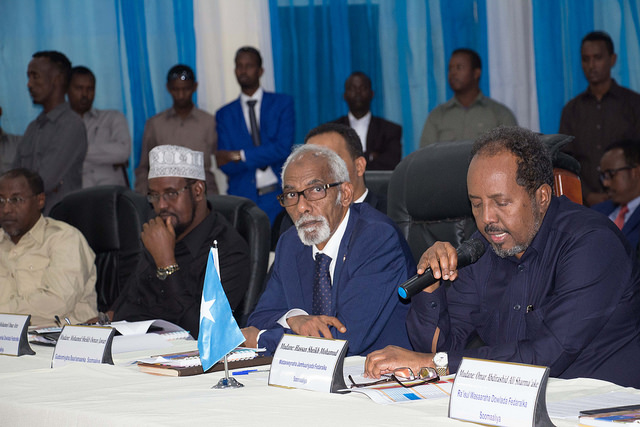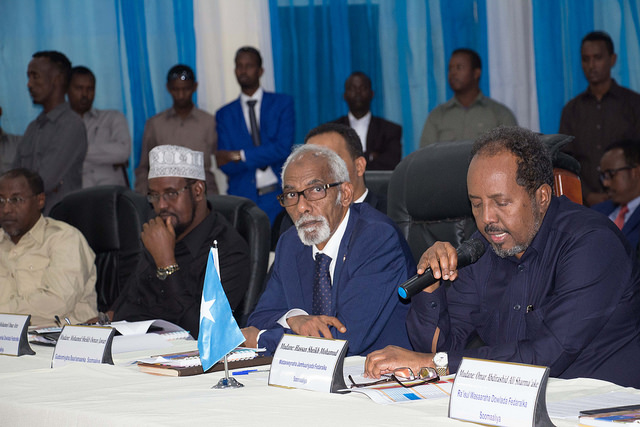 Somali parliament will elect a new president December 28 in yet another deadline set by the country's leadership as fears of a spill over into 2017 abound.
The National Leadership Forum which is composed of the President, PM, House speaker and heads of regional administrations said Thursday in a communique the Federal Parliament will be sworn in on 15th of this month and will subsequently elect speakers on the 22nd.
Newly elected MPs will converge in Mogadishu a day before the swearing in ceremony.
The announcement follows three failed attempts to hold Presidential elections in Somalia starting September 10 when the President's term came to a close. The last November 30 Presidential poll date was announced by the Federal electoral body FIEIT and yesterday's move could signal pressure on the country's top leadership to intervene and fix a new timeline. FIEIT said late November it would not beat the November 30 deadline but steered clear of committing itself to another timelines.
In a letter seen by Goobjoog News, UN envoy to Somalia Michael Keating asked the country's leaders to converge in Garowe Wednesday to deliberate on the new poll dates and carry out an assessment of the electoral process.
A total of 208 Lower House members have so far been elected while the Senate is short of 11 seats from the break-away region of Somaliland to fill the 54 seats mandated by the 2012 Provisional Constitution.
Lower House elections for Somaliland started this week with the election of six MPs. The exercise will resume today with the election of 11 others. Somaliland communities are entitled to 46 seats in the Lower House. It is not clear though when the Senatorial elections will commence but the Federal electoral body FIEIT has indicated preparations are almost complete.
The two days meeting which was also attended by UN envoy for Somalia Michael Keating resolved that new guidelines on the distribution of Upper House seats for Sool and Sanaag regions which have been contested by both Puntland and Somaliland will be released on 13th of this month. An electoral official from the Somaliland state level electoral team told Goobjoog News this week there were not seats reserved by Somaliland for the two regions and neither did Puntland which already completed the exercise.
It is not clear Lower House elections will have been completed ahead of the swearing in on next week. FIEIT chairman Omar Abdulle said last week however the House needed to meet the two thirds threshold for a new House to come into being. That threshold has so far been surpassed by more than 20 seats.
Elections for Puntland which has so far elected 22 MPs out of 37 stand postponed over what the region termed as lack of finances to continue the exercise. However a number of sources privy to the developments whom Goobjoog News talked to allude to the Sool and Sanaag question. Puntland, sources said wants Somaliland to reserve Senate seats for the two regions and to realise this end, it decided to suspend the Lower House elections.
President Hassan Sheikh Mohamud will be battling out with more than 15 other candidates among them current Prime Minister Omar Abdirashid Sharmarke.