Weapon sales, demand, the highest in Mogadishu since 2009- arms dealers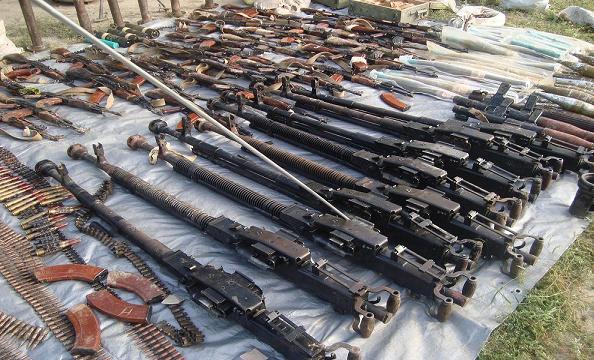 GOOBJOOG NEWS|MOGADISHU: Weapon sales and demand in Mogadishu have shot up to levels last since in 2009 following the April showdown between the government and opposition forces and the tension build in the ongoing elections, investigations by Goobjoog News reveal.
A spot check in weapon markets and interviews with traders in Mogadishu reveal that the price of weapons has shot up by 100%  in the last eight months.
"There are more and more guns being bought, politicians and ordinary people are buying from us, there are preparations, we don't know," one arms trader who did not wish to be named for security reasons told Goobjoog News.
"When we asked him when the price went up, he said, "It was April after the war."
Arms dealers say there is a heavy stockpile of weapons, with a wide range of demand and weapons on the market, adding that this has not happened since 2009. The country is currently undergoing a long-running election that started in July 29 with the election of senators and has dragged to date with the prospect of a spillover into 2022. So far, less than 50 MPs out of 275 have been elected countrywide.
Emerging disputes from clans, politicians and the public about mass irregularities in the ongoing Lower House elections portend more instability while the decision by the Council of Presidential Candidates to boycott the elections in addition to mulling a more robust approach against Villa Somalia will likely ratchet up demand for more weapons in the country.
Below is the price range differences in the past and now:
Guns
| | | |
| --- | --- | --- |
| Gun type | Previous Price | Current Price |
| Korean AK47 | $800 | $1,100 |
| AK47 Coupler | $1000 | $1,700 |
| `BKM Riffle | $9,000 | $13,000 |
| Dhashiike (Ukranian) Rifle | $8,000 | $17,000 |
| Dhashiike Cover | $8000 | $15,000 |
| Saban Rifle | $1,000 | $1,600 |
| 9mm Parabellum pistol (Dhabancas-Somali) | $1,800 | %$2,500 |
| Belgian Pistol | $1,800 | $2,500 |
| Tetega pistols | $700 | $1,200 |
| | | |
Bullets
| | | |
| --- | --- | --- |
| Type | Previous Price | Current Price |
| AK 47 | $1.2 | $1.5 |
| BKM | $1 | $.15 |
| Dhashiike | $150 | $250 |
| RBG | $90 | 180 |