Somaliland executes six men for murder, terrorism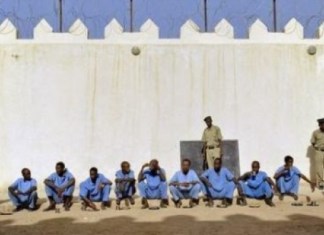 Authorities in Somaliland  Wednesday executed six convicts who had been sentenced to death for various crimes including affiliation with the militant group Al-Shabaab.
The men were shot dead on Wednesday morning in Mandera Prison, the largest Somaliland prison. The men were identified as:
1: Ahmed-Guray Ibrahim Farah.
2: Farhan Mohamed Hassan.
3: Abdullahi Ismail Heyd.
4: Cheddarus Khadar Haybe
5: Qatar Aleel
6: Hassan Muhammed Osman
Goobjoog News